Oral Sedation Dentistry
At Hillhurst Dental, we know that some people feel a lot of stress and anxiety at the prospect of a dental examination or treatment. That's why we offer oral sedation to help our more anxious patients feel at ease.
---
At Hillhurst Dental we offer Inhalation Sedation Dentistry using Nitrous Oxide. Sedation Dentistry may be the right option for you if you've experienced any of the following points: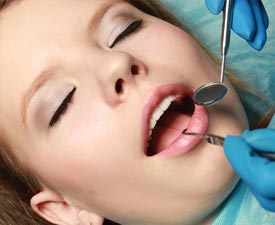 High Fear or Anxiety
Have had traumatic dental experiences
Have very sensitive teeth
A gag reflex
Extensive dental problems
A tight schedule
Difficulty in becoming number
If you just generally hate everything to do with the dental office
Sedation Dentistry Summary:
Sedation Dentistry is Safe: You will not be unconscious, but will merely be in a deeply relaxed state. No intravenous tubes or needles are required.
Sedation Dentistry is Pain-Free: You will feel no pain while in the dental chair, and you will have little to no memory of the experience.
Sedation Dentistry is Flexible: Depending on the treatment you require and the level of sedation achieved, sedation dentistry can help you remain relaxed for two to six hours.
Complex Dental Treatments can be Completed in Just One Visit: You can have crowns or bridges replaced, veneers cemented, numerous fillings done, a professional cleaning completed with our hygienist, or numerous teeth extracted; all while you remain comfortably relaxed.
Taking care of your teeth need not be a painful or stressful experience. So contact us and find out how oral sedation may work for you.
---