Children's & Adult Orthodontics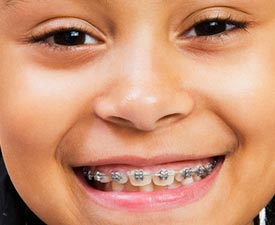 At Hillhurst Dental we know that Children and Adults generally need orthodontics for slightly different reasons. Since in children and teens the jawbones are still developing and for adults, these bones have stopped growing, the approach to orthodontics for each age range can differ.
Orthodontics for Children
While there is no exact age for your child to see an orthodontist, most orthodontists recommend that they see your child by age 7 in order to advise you if orthodontic treatment is required as well as when the best time to start treatment may be. By the age of seven, most of the first permanent molars and incisors have usually come in and crossbites, crowding, and other problems can be evaluated.
Early treatment allows us to correct and guide the growth of your child's jaw so we can help the permanent teeth come in straight. We can regulate the width of the upper and lower arches as well as create more space if the teeth are crowded. This can have the benefit of avoiding the need for permanent tooth extractions in later life.
Additionally, it can also correct thumb-sucking and possibly help improve speech problems.
Orthodontics for Adults
Many adults consider orthodontic treatment if they have a bad bite, malocclusion, or their teeth are not fitting together correctly. If the teeth are crowded or spaced apart, there is a distinct possibility that it may lead to tooth decay and/or gum disease. If you have crooked teeth, you may be experiencing abnormal pain or pressure in your jaw, which can affect your TMJ joint. Or they may just simply want to have a healthier mouth and a more confident smile.
For many adults, the thought of having metal braces is enough to discourage them from receiving treatment. Today's orthodontic treatment options, however, offer a variety of braces and appliances that are comfortable, aesthetic, and customized to meet your needs. The types of braces used at Hillhurst Dental are:
Tooth-colored
Acrylic
Self Ligating Carriere LX
Why should you consider orthodontic treatment?
Straight teeth are healthy teeth — Teeth that are properly aligned are easier to keep clean with flossing and brushing and may help prevent other health problems.
A beautiful, straight smile builds confidence — Orthodontic treatment can help boost your self-confidence, giving you a better quality of life and the freedom to smile without holding back!
Mouths left untreated can get worse — Not receiving orthodontic treatment when it's needed can create long-term health issues, and end up costing you more in the end.
At Hillhurst Dental, we welcome ALL new patients, no-referral is required!
---