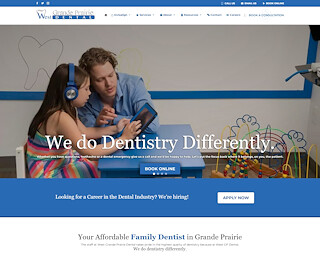 Very few people are blessed with straight teeth. In fact, many people have a variety of inconsistencies with their teeth. Both children and adults can benefit from orthodontics in Grande Prairie. Orthodontia appliances can be used to improve teeth alignment. The traditional way of straightening teeth has been the use of metal braces. Another option for some patients may be invisible aligners, a new and more modern approach to teeth straightening.
About Orthodontics in Grande Prairie
Straight teeth can make your smile more appealing and you will be less self-conscious about your appearance. For some people, crooked teeth may not just be unsightly but they may also cause problems. When your teeth are crooked they may not line up properly when you chew and that can make eating difficult. Properly aligned teeth allow you to chew foods more easily.
Traditional braces re made of metal and the dentist will attach them to the teeth with connecting wires. The dentist then tightens various areas in order to firmly pull the teeth into the proper position in the mouth. Periodic adjustments must be made as your teeth move to their places.
Invisible aligners are a relatively new option instead of traditional braces. They use plastic liners that are created specifically for your teeth. There are some advantages to invisible braces. One advantage is that they are virtually invisible compared with metal braces. At a glance nobody will typically notice that you are wearing them.
Another advantage is that you can remove them when you eat and brush your teeth. This makes eating much easier and because you can brush your teeth in a normal fashion you won't have problems with decay. As with metal braces, you will need to visit the dentist at regular intervals to have new aligners made as your teeth shift. Invisible aligners may be more comfortable than wearing metal braces.
What to Expect During Your Visit to the Dentist
If you are considering orthodontics in Grande Prairie the first step is a consultation with the dentist. The dentist will examine your teeth and may take x-rays to evaluate what needs to be done. The dentist will discuss your options and answer any questions that you may have. Invisible aligners may not be an option for everyone, depending on the specific needs of the patient.
Some teeth may need to be removed before braces are applied. This may be necessary to make room for your teeth as they shift into position. In the case of invisible aligners, the dentist will take impressions of your teeth so the aligners can be made. Once the aligners are ready the dentist will fit them onto your teeth and show you how to use them. They are easy to care for as long as you follow the instructions. The dentist will check your teeth regularly and when your teeth have begun to move a new aligner will need to be made.
To learn more about orthodontics in Grande Prairie visit our website or schedule a consultation today.
orthodontics grande Prairie